Tech Info
Here you will find educational technical information to assist you in installing your own parts.
Our shop is constantly installing performance parts and kits on classic and modern Mustangs in order to improve the performance, ride, handling and look of the classic and late model 'Stangs. This section of the website is dedicated to technical documents and magazine install articles covering the installs of the performance enhancing kits and components that will make your project 'Stang step-up it's performance. All of the install articles have been performed by our qualified and trained staff of automotive technicians. We will continue to update this page on a regular basis.
In order to read our PDF files you will need adobe acrobat reader.
---
Wondering What the Differences Are in the Dakota Digital Line? Here is a great overview so you can see what is included in each type of Gauges. Here is a better look at...
---
When purchasing a new aftermarket rear disc brake kit, it is important to check your Mustang's rear axle housing to determine with certainty, the Ford housing flange and axle offset you have...
---
A four link rear suspension system is an excellent suspension upgrade over your Classic Mustang's stock rear leaf spring suspension. Invented in the 1700's, leaf springs are a tried and true...
---
Purchasing new aftermarket wheels can be the first and easiest way to make your Mustang stand out from the crown. However, many People can be confused about how to measure a wheel's offset or...
---
Introducing The NEW Total Cost Involved Engineering '641 / 2 - '70 Ford Mustang Convertible Rear Torque Arm Suspension. This suspension package is designed to lower the stance, dramatically...
---

Read up on understanding independent front suspensions. The article explains:
Bumpster
Anti-Drive
Toe Angle
Camber & Caster
---
View the PDF tire guides listed below:
---
This site is dedicated to providing extensive reference information to classic Mustang and Ford owners based on the codes located on your Door Dataplate as well as other coded information located...
---
Installing performance front and rear sway bars can greatly improve the cornering and traction capabilities of your Mustang. Click on the video below to view an install from David...
---
November 2009 - Mustang Monthly Covers an Install of a 69 Mustang S-Style Fiberglass Kit. See just how well it fits! Although we've seen some hard times lately, the Mustang hobby is still...
---
Check Out Our TKO 500 5 Speed Swap Tech Article in the June 2008 Issue of Mustang Monthly!!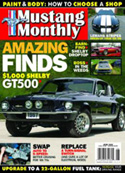 ---
Read Mustang & Fords Magazine article on Installing A 4-Link Suspension On A Classic Mustang. Ditch Those Leaf Springs For The Precision Of A 4-Link Rear Suspension Author:...
---