Stang-Aholics, LLC Website
»
GT Performance Steering Wheels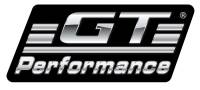 Since 1932, the GT marque has established the definition for performance vehicles worldwide and 80 years later, it's in the DNA of GT Performance. The GT Performance marque will continue this fine tradition in the true spirit of performance products.
GT Performance has been making quality aftermarket steering wheels and accessories since 2012. The "Steering Wheel Experts" at GT Performance have been in the aftermarket industry and varies roles throughout the decades and have over 40 years of experience in steering wheel design and manufacturing. With this knowledge and decades of experience, the GT Performance brand understands niche markets, trends, and the passion of automotive enthusiasts. The goal of GT Performance is to build a brand you can depend on forever…
Stang-Aholics.com is proud to be an authorized distributor and seller of the GT Performance line of steering wheels. We believe the quality, performance and value of their products is hard to beat in the aftermarket today. We have long been impressed with the attention to detail and features that are a notch above most others in the steering wheel aftermarket. Get a quality steering wheel for your Classic Mustang today from Stang-Aholics.com and GT Performance!
---
GT Performance Steering Wheels Categories
---
GT Performance Steering Wheels
Products