Stang-Aholics, LLC Website
»
AMK Products - Bolts and Hardware
AMK Products specialized in hardware and fasteners for the automotive industry. Hardware and Fasteners is ALL they do, and we at Stang-Aholics have always been impressed with their quality and attention to detail. AMK benefits from the company's founders and their specific knowledge of metal working. They design some of the tooling that is used by their cold heading manufacturers. This is something that is unheard of in the industry. Their work goes down to the specific details of the hardware such as the radius of the heads on their bumper bolts, the specific head shape, of even the diameter and depth of a hex head indention. They are even fanatical about having the factory style markings reproduced and present on hardware where it matters. They work with their main manufacturing partners in the USA and are determined to offer a high percentage of their products Made of Steel in the USA! AMK typically has about 1.5 MILLION pounds or 40 MILLION fasteners on hand at any given time in their 3 domestic warehouse locations!
Since we at Stang-Aholics started as a Mustang restoration shop, we can appreciate good quality hardware in our Mustang builds. MANY of our vehicles have quality AMK hardware and we can always count on their products looking and performance just right!
---
AMK Products - Bolts and Hardware Categories
---
AMK Products - Bolts and Hardware
Products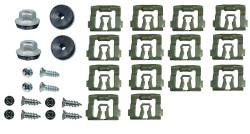 Description:
Front Windshield Molding Hardware kit, 22 Piece Kit for 65-68 Mustang Convertible This is the correct hardware kit to attach the Front Windshield Moldings on your 1965 1966 1967 or 1968 Mustang...
More Details »
---
More About
AMK Products - Bolts and Hardware
MORE ABOUT AMK PRODUCTS FOR CLASSIC MUSTANGS AND FORDS
Exterior Fasteners: AMK products offers everything for your Mustang from Body Hardware kits and bolts, to attach your Front and Rear Bumpers, Bumper Supports, Front Fenders, Front Grille Fasteners, Lower Valance, Stone Deflector fasteners, Radiator support hardware, headlight bucket and headlight trim hardware, hood and hood hinge hardware, windshield molding hardware, door mounting hardware, Engine bay hardware, Rear Window Molding hardware, trunk lid hardware, rear valance screws and hardware, tail light bucket and related hardware, tail light lens and lens bezel mounting hardware, trunk lid hinge hardware and more!
Interior Fasteners: AMK products offers most all the fasteners, clips and hardware you may need for the interior in your Mustang. They offer dash panel hardware, instrument panel hardware, kick panel hardware, door sill plate hardware, screws and clips for your interior door panels, center console hardware, front seat hardware, rear seat hardware, fasteners for your interior rear quarter panels in your Mustang coupe, fastback or convertible. If you need fasteners, hardware screws or clips for your classic Mustang, AMK and Stang-Aholics have the hardware you need!