Stang-Aholics, LLC Website
»
Edelbrock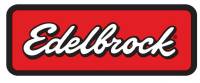 Founded back in 1938, by Vic Edelbrock Sr. the Torrance-based Edelbrock, LLC has long been regarded as one of the nation's premier automotive aftermarket designers, manufacturers, and worldwide distributor of performance replacement products for the vast automotive aftermarket industry. Edelbrock is completely dedicated to producing its core product line right here in the USA and uses only state-of-the-art equipment in their world-class manufacturing facilities around the country. Edelbrock, LLC wide-spread operations encompass five locations in Southern California and an additional location in North Carolina all totaling more than 500,000 square feet of manufacturing, development, and R&D of some of the best American-made aftermarket products available today.
Stang-Aholics proudly offers these American made Edelbrock products for the Classic and Late Model Mustang builder and Enthusiasts.
Edelbrock's vast line of automotive products includes (but is not limited to) Intake Manifolds, Cylinder Heads, Carburetors, EFI Systems, Super Chargers, Camshafts, Engine Dress-Up Components, Fuel Injection Parts, and more! Whether you are looking to do a complete overhaul on your Ford Mustang's Engine, Add a Supercharger for added Power, install a New Carburetur or Simply Dress-up your Engine compartment, Stang-Aholics and Edelbrock have your Mustang's performance needs complete covered!!