Stang-Aholics, LLC Website
»
Dutchman Axles - Mustang Axles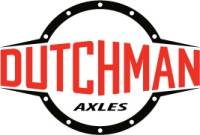 Dutchman Axles designs and manufactures custom rear alloy axle shafts, and related driveline components available on a global basis. Dutchman is a family-owned and operated business since the early 1970s, and for over 40 years, Dutchman has focused on building strong customer relationships by offering quality products at a fair price and providing timely delivery.
They are well known for their high-performance street and racing automotive products, Dutchman also manufactures axles and rear ends for industrial and original equipment manufacturers including, specialty vehicles, all-terrain vehicles, agricultural vehicles, and heavy equipment. They have a large selection of off the shelf components including ring & pinion gears, limited-slip positraction carriers and differentials, full spools, billet housing ends, wheel studs and bearings, bearing retainer plates, 3rd member cases and pinion supports, and complete assembled Ford 9 inch 3rd members.
Dutchman proudly manufactures its axle products from their Meridian, Idaho machine shop, and office facilities. They are able to provide a wide selection of stock replacement and high-performance custom alloy axle shafts, as well as specialty rear end assemblies and components, including brake kits and differential components.
Stang-Aholics is proud to partner with Dutchman axles to provide our customers with high-quality axles and rear end components for your Classic or Later Model Mustang. Stang-Aholics and Dutchman will make sure you get the right products to get your Mustang back on the road and performing at it's best. Give one of our Sales staff a call Today, we would like the opportunity to put together the right parts and QUALITY parts for your Mustang project!