Stang-Aholics, LLC Website
»
Currie Enterprises | Mustang Parts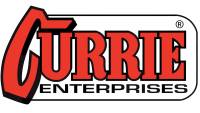 Since the late 1970's Currie has become a recognized leader in designing, building and modifying rear end and drive-train products for the automotive aftermarket. Currie Enterprises operates out of a 50,000 Sq Ft. State-of-the-art manufacturing facility in Southern California where they build their rear end components from start to finish all under one roof. Currie Enterprises has long been known for making the best rear ends and drive train components that money can buy. Currie stands behind each and every rear end and component that leaves their production facility. They also invest in the technologies and training to continue offering complete rear ends that exceed the original cores in strength, quality, durability and versatility.
Stang-Aholics has partnered with Currie to offer Mustang enthusiasts top-notch rear end and drivetrain components for your Classic or Late Model Mustang. Whether you are building your Mustang to be a weekend cruiser, pro-touring custom or pavement pounding racer, Stang-Aholics and Currie Enterprises have the rear end components for your unique project Mustang!
If you do not see a component on our site that meets your needs, give our sales team a call and we will help put together a custom built rear end or 3rd Member for your project Mustang!
---
Currie Enterprises | Mustang Parts Categories
---
Currie Enterprises | Mustang Parts
Products