Stang-Aholics, LLC Website
»
DIGI-TAILS
DIGI-TAILS is a product of Spaghetti Engineering, a company specializing in high-performance automotive products. Our products have won numerous awards, including several best new product awards for DIGI-TAILS. In addition to our commitment to innovation and excellence, we are dedicated to integrity and outstanding customer service. Digi-tails LED Conversion kits are made right here in the USA and come with a limited Lifetime warranty to the original purchaser. Stang-Aholics has teamed up with Digi-tails to over quality LED conversion packages for classic Mustangs. The kits will not only fit and function well, but the high quality of the product and the performance will compliment any classic Mustang build! Get your new LED tail Light upgrade kit TODAY from Stang-Aholics.
---
DIGI-TAILS Categories
---
DIGI-TAILS
Products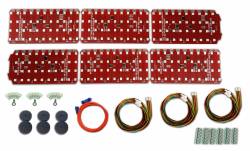 Description:
LED Sequential Tail Light Conversion Designed to fit 67-68 Cougar or 67 Shelby Tail Light Buckets Dramatically enhance your rear tail lights in your Classic Cougar or Shelby Mustang with these...
More Details »
FREE SHIPPING on orders *$199 or more