Stang-Aholics, LLC Website
»
Total Cost Involved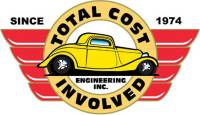 Total Cost Involved (TCI) Engineering has been in business for over 40 years. They started out manufacturing complete chassis and now have become one of the industry leaders in providing high quality suspension systems. They are an engineering company making sure they provide quality so you can make your Classic Mustang drive and Handle like a modern day vehicle. Get your Classic Mustang on the road and let Stang-Aholics help you find the best TCI Suspension Package for you and your ride.
---
Total Cost Involved Categories
---
Total Cost Involved
Products
---
More About
Total Cost Involved
TCI stands behind their product offering the industries leading warranty on their Mustang Suspension Packages. They offer a Lifetime warranty on all the structural components and 6 year / 60,000 miles on everything else-talk about confident!