Stang-Aholics, LLC Website
»
SpinTech Performance Mufflers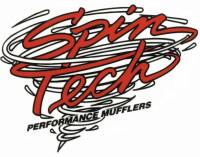 Mustangs are known for their looks and their aggressive sound. Finding an exhaust system can be challenging because of the many systems out there. However, SpinTech Performance Mufflers offers a unique patented design for maximum performance for your build. With Stang-Aholics now offering their latest products for the late model V6 and V8 applications, it makes YOUR upgrade a breeze.
---
SpinTech Performance Mufflers Categories
---
SpinTech Performance Mufflers
Products
---
More About
SpinTech Performance Mufflers
SpinTech Performance Muffler developed exhaust systems for serious competition in the Mustang arena. With the help from NASA engineering, SpinTech was able to establish itself as one of the hottest players in the industry. The performance muffler provides maximum attenuation at very high flow velocities. Stang-Aholics has personally used these mufflers and can attest to their great sound as well as the dyno-tested performance.
SpinTech Performance launched a new advanced technology for the drag racing industry that eventually led into the high performance street market. This is evident today with all of their products like sub frame connectors, Mustang GT Axle back exhaust, Dual side exit system, Stainless oval tips, CAT back systems, Roush Mustang side exit kits, and many performance mufflers being offered.
CALL TODAY for the best prices and availabilty