Customer Rides

32 photos
Stang-Aholics, LLC built this car for a customer, Chris Werlhof, and it turned out pretty sweet! This Mustang started out as a plain 1968 coupe. It went through a complete ground up rotisserie restoration. We installed and made many modifications and upgrades to this Mustang throughout the build. The gallery will take you through a picture tour through many of the features and upgrades on this custom Eleanor coupe.

23 photos
Stang-Aholics, LLC built this Mustang for NFL football player Christian Fauria. This car went through a complete ground up rotisserie restoration, with attention to all the details. Early on in the planning stages of the build, the customer made it clear that he wanted a car that would retain the classic lines of the 1968 Mustang, but with a little bit of a modern touch. Plus, the Mustang had to handle up to par with a modern sports car instead of like an old classic 60's 'Stang. Through the build we replaced all of the original suspension with a state of the art Coil-Over suspension and power rack and pinion out of a late model Mustang. To complement the performance suspension we went with a completely modern drive train powered by the brand new Ford Racing 5.0 Engine under the hood. The result is a car that possesses outstanding custom exterior looks along with the performance to back it up.

FEATURED COMPONENTS:
Heidts Dual A-Arm Independent front suspension w/ Aluminum Carrera Coil-over shocks
Wilwood 4 Piston Billet Calipers
Power Rack and Pinion Steering
Custom Eleanor Body Kit
Ford Racing 5.0 engine with GT-40 Aluminum Heads (365 HP)
Custom Aluminum March Pulley System
Griffen Aluminum 24" Radiator
Custom Built AOD Transmission
Stainless Steel Magnaflow Muffler System
Custom Boyd Coddington 18" Junkyard Dog Wheels
9" Currie Posi-traction Rear End
Aluminum Driveline
Hella Custom Lighting System
LED Sequential Rear Tail Lights
Stang-Aholics Eleanor Fiberglass Kit
CAE Complete Sound Insulation
Spal Electric Fan Cooling System
Fuel Safe 16 Gallon Fuel Cell
Deluxe Brushed Aluminum Interior (manufactured precisely like original brushed aluminum)
Oversized White Autometer Phantom Gauges
Shelby Convertible Roll Bar
Custom Upholstered Trunk & Seats
Premium Convertible Top w/ Glass Back Window
Electric Convertible Top
Complete Polk Audio Custom Stereo System with Mono 10" Woofer & Dual Amps (1200 watts)
Sirius Satellite Radio
Kenwood Deck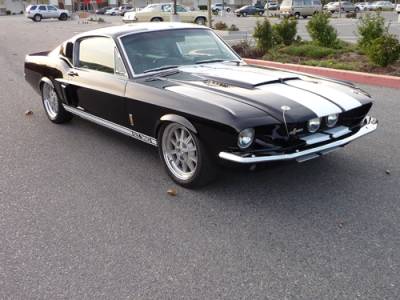 5 photos
Dan Bilek's Dark Matter Mustang is a black Mustang fastback restomod converted to a 1967 Shelby look-a-like.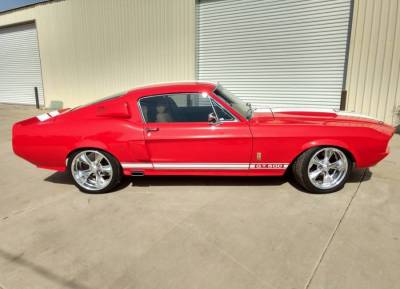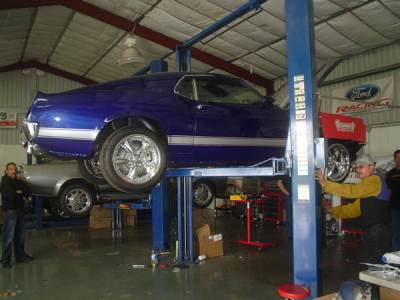 7 photos
This 1970 Boss 302 Mustang came to us from Season IV of the T.V. Show Overhaulin'. The vehicles owner, Hector Perez, wanted a modern Tremec TKO 500 Manual Transmission System installed in his Overhauled classic. So we partnered up with Keisler Engineering and Ford Racing to Overhaul the Overhaulin' car with a new short throw 5 Speed Modern Transmission. We performed the swap in a matter of days on Hector's sweet ride. We also had one of the editors for Mustang Monthly & Mustang and Fords Magazine present during the complete process. The entire installation was featured in MM or Mustang & Fords.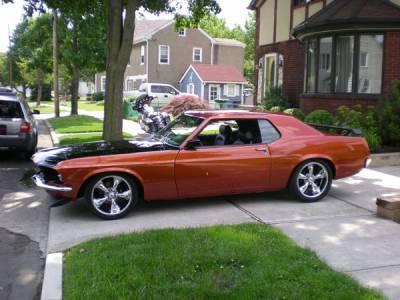 2 photos
Check out this 1969 Mustang Coupe that Kevin Bliss Owns and Built himself.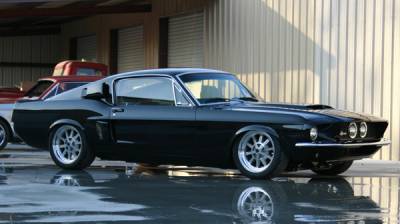 1 photos
Check out the beautiful Restoration of Lisa's 1967 Shelby Mustang. Stang-Aholics, LLC fiberglass was used in this restoration.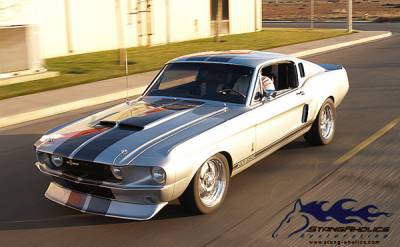 22 photos
This car was brought to our shop to get all the finishing touches. One of our good friends, and a customer of ours, has been putting this car together for two years. We installed a modern dual A-Arm independent front suspension with power rack and pinion steering. We also upgraded the suspension at all four corners with 12" drilled and slotted Wilwood brake upgrades. The car has a 347 Stroked engine pushing 520 hp. This 'Stang is one super fast ride. Look for this car to be featured in MM & Mustangs and Fast Fords in several articles.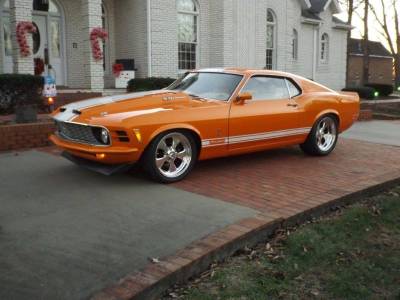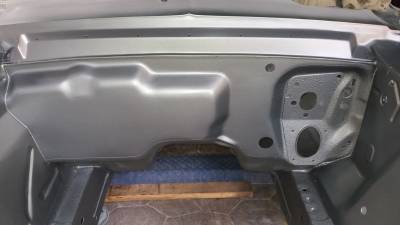 10 photos
This is a 67 Mustang with a Heidts PRO-G Front and Rear Suspension, 351W Engine and T56 6 Speed Transmission. Customer is located all the way over in the Dominican Republic.